4
mins read
When everyday technology makes advancements, the arrival of new tech trends every year does not leave us to a surprise; nonetheless, the inventions that occur surely leave us with our mouths open.
The decade's technological trends classified as Artificial Intelligence, Machine Learning, Robotic Automation, Internet of Things (IoT), Software Development, Cloud Computing will be essential to become more competitive and robust with the passing time.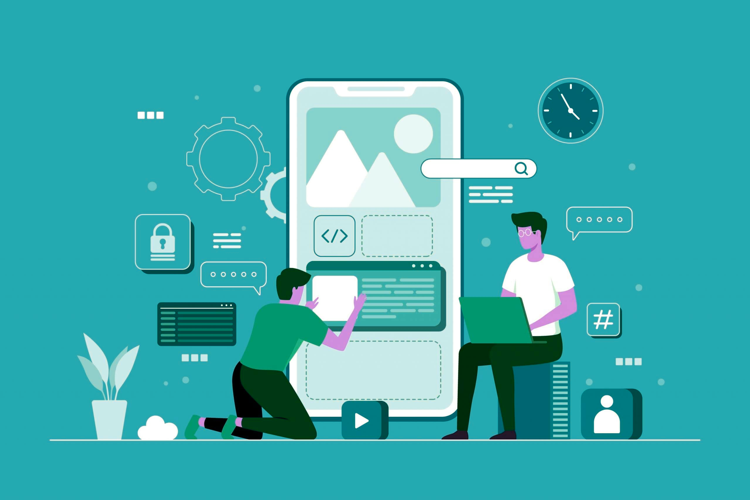 These are the technologies that have been in development and extraction for a long time and presently are at their best since they possess the necessary maturity to be adopted by organizations.
Talking about applications and their trends, they are changing and modernizing as they embrace more advanced technologies to fulfill demands for smarter and innovative solutions.
Now let us put light on some app development trends that will make a difference in the business space and life and will anticipate a little to be aware of what awaits us in 2022.
Mobile App Development Trends to Look For in 2022
#Rise of Voice User Interface (VUI)
Many of us are aware that voice integration has been implemented in electronic devices that have made human efforts go effortless. We have seen our smartphones understanding our commands through voice recognition technology but the future holds way beyond that.
Voice user interface is and will remain a key segment in the mobile app development trends that will allow users to interact with digital devices/systems through speech commands, thus, enabling them to go hands-free and eyes-free.
This technology will expect designers and developers to closely understand and pay attention to how easily a user might overstep expectations while interacting with a VUI and how they can be rewarded with expected accurate responses.
#Mobile Wallets: From eCommerce to mCommerce
With the changing consumer demands and expectations, a great transition is witnessed in the way they shop and pay. Acquiring cards and payment apps and going cashless is the new norm of executing transactions that have led to moving forward towards mobile payment applications like Google Wallet, Apple Pay, WhatsApp Pay, etc.
"Mobile Wallets have helped enormous businesses to lead the way in Mobile App Development Domain."
Mobile wallets are a vision-forward technology that aims to ease the user experience while transferring funds over a secure network, bringing a cutting-edge payment revolution.
Businesses have leveraged mobile wallet applications and have facilitated payments over mediums of P2P (peer-to-peer) Magnetic Secure Transmission (MST), Quick Response (QR), and have thus been allowed to manage digital cards (debit/credit), cryptocurrencies, prepaid gift cards, and much more.
#Blockchain-Powered Apps
Blockchain is no more a newbie and has been around for some time now; however, the modifications and improvements in the technology have not let its wave tremble anytime.
Blockchain was a trend and will occupy a significant place in the list of latest and essential mobile app trends through its power of decentralization. With its ability to create decentralized databases it eliminates the need for third-party providers or companies to act as gatekeepers or intermediaries.
Thus, Blockchain enables applications to be more independent, secure, transparent, and traceable, allowing more accessibility and flexibility in their use. So Blockchain Technology is an evergreen trend to see in mobile app development.
#Instant Apps
Instant apps were a trend of yesterday that didn't see much popularity then but are on the rise now. This is a technique developed to allow users to access an application before its install and help them test it via launching it before it gets downloaded on a user's smartphone.
The primary motive is to provide a kind of sample to the app users to increase their confidence in the app and help avoid low or bad ratings in case users are not satisfied with the full version of the app.
The future ahead will see such an amazing trend in the app development landscape and may end becoming a standard for all new apps launching.
#Beacon Technology
Beacon technology is a newbie and is gaining traction in the mobile app development world. Beacons are small Bluetooth devices used to transmit signals and allow users to connect to services through their location.
When embedded within an app, they will act as wireless transmitters to send signals and be helpful in proximity actions. Businesses can make use of them to send information to the customers who have installed them and are nearby.
Say, if a restaurant has beacon technology installed and customers having the same will be notified of the new offers and discounts the restaurant is providing in real-time. Beacon technology also uses IoT for establishing communication between devices. With its benefits at small and large scale, it's a trend looked upon by many spectators.
#Smarter AI-ML Applications
With the app industry witnessing advancements at a faster pace, one cannot deny that this domain has the great support of Artificial Intelligence, Machine Learning, and their descendants.
AI and ML have become mainstream where apps like Siri, chatbots, etc. have become commonplace. Nevertheless, the shades of Artificial Intelligence will never fade away in this industry where it supports almost all digital inventions in mobile app development.
Final Considerations
At any given time, one can witness over 5 million apps in the Google and Apple app stores which indicates that the demand for smarter, innovative, and entertaining solutions through applications will certainly continue to grow.
The list of mobile app development trends is going to get longer with the progressive advancements and resultantly the business space will completely get transformed via modern mobile applications.
So have you embraced the changes that these trends have brought along within your business? If not, we at CodeGlo can help you with mobile app development to keep you relevant and competitive as per the new industry norms and demands. Get in touch here.
About the Author